The role of Classer is extremely important in stud Merino breeding. Invariably he is a man of wide experience and definite views on the type of sheep that will lift the flock average and give the best commercial results.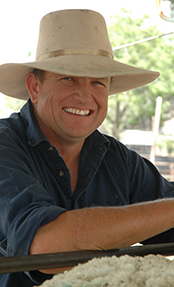 Paul Kelly – current Stud Classer
In 2001 Paul Kelly succeeded Bill Bailey as Egelabra Merino Stud's Classer.
Paul's suitability was unquestionable given his progression from a Jackaroo to Manager of Eenaweena, demonstrating the natural ability essential in a first-rate classer.
Paul's instinctive skill for assessing sheep is an invaluable tool for advancing Egelabra Merino Stud into the future.
Bill Bailey was Egelabra's Classer until retiring after 41 years of invaluable service. During this time, Bill controlled the breeding of more Spanish Merino studs and flocks than any other classer in Australia.
Our Classing Policy
Egelabra's classing policy aims to maintain and build upon those characteristics which have helped make Egelabra Australia's premiere medium wool Merino stud.
The key features of this policy are to:
Maintain a closed-stud status;
Meet demand for wethers and surplus ewes;
Maintain a reputation for client service second-to-none;
Breed sheep with good constitution, adaptability and a high resistance to fleece rot and fly strike and that produce:

Wool free from colour and stain;
An excellent wool cut;
Soft, pearly, white wool with handle;
Wool that has versatility and a highly rated comfort factor;
Wool with excellent spin ability.