Since 1906 Egelabra Merino Stud has had six General Managers, each contributing their knowledge, skills and experience to ensure Egelabra's long-standing and continued success as a superior closed-stud.
Mr David Wass 1906 – 1926
Mr Harold Wass 1926 – 1946
Dr N M Kater 1946 – 1957
Mr Selwyn Connell 1957 – 1976
Mr Hugh Lydiard 1976 -1997
Mr Cameron Munro 1997 – present
Cam Munro – current Egelabra General Manager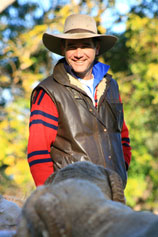 Cam Munro began his career at Boonoke Merino Stud in New South Wales where he progressed from Jackaroo to Overseer.
He commenced his involvement at Egelabra Merino Stud in 1989 as Overseer and was promoted to Manager of the Eenaweena Ram Depot in 1993.
Having demonstrated exceptional abilities in these roles, Cam took over the position of General Manger of Egelabra in 1997.
As General Manager, Cam Munro continues to build on the strong foundation set by his predecessors.
His capabilities as a Merino judge and his awareness of the needs of his clients through his excellent liaison skills, have seen the Stud continue to move from strength to strength