Breeding from Egelabra's rams, our wool has always had consistency and predictability.
John Fisher, NSW
The versatility of the Egelabra bloodline is widely recognised with up to 2,000 rams sold annually throughout Australia and New Zealand. Clients continue to report that Egelabra rams produce exceptional wool and off-spring that maintain their unique wool and breeding characteristics.
All rams are tested annually for fibre diameter in September and the results are readily available to clients to assist them with selection. Following the mantra of 'what you buy, is what you breed', our sheep are not over-managed nor overfed while in the stud, so that they remain adaptable and can perform well in commercial production systems.
Egelabra is accredited MN3 for Johne's disease and is accredited free from Brucellosis and footrot.
Our Breeding Policy
Egelabra's breeding policy is to maintain the bloodline as a pure genetic strain. This ensures consistent quality and enables a targeted and true breeding program.
Our sheep have been classed and bred with the aid of objective measurements to produce a longer bodied, more densely covered, long stapled sheep with the special type of pearly, white, soft wool unique to the bloodline.
However, a cornerstone of the breeding policy has been to avoid chasing genetic extremes, which can lead to trade-offs between traits.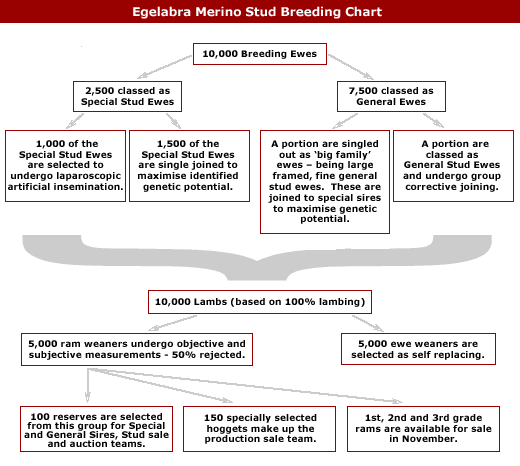 Ram Sales
Egelabra flock rams are available for selection every November. Up to 1,500 stud and specially selected rams are sold annually through auction sales at:
The Annual Production Sale
Hamilton
Armidale
Bourke
Isisford
The majority of rams are sold to commercial production operations.
Semen Sales:
Egelabra offers semen sales from top stud sires. Contact us if you would like to discuss this option.